Bar Soaps - Oakwood Soaperie Shop
livepages::jquery();?>
Our current budget friendly soap offers, whether you're topping up or stocking up, shop now and save with our multibuys.


Choose 3 soap bars for £18.00 - enter 3for£18 at checkout.
Or if you're stocking up, add 5 bars to your basket and enter 5for£30 at checkout.
Offers apply to full price soaps only, enter discount code at checkout, one code per transaction.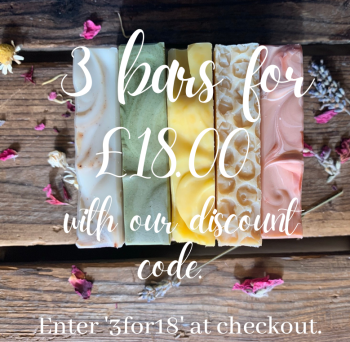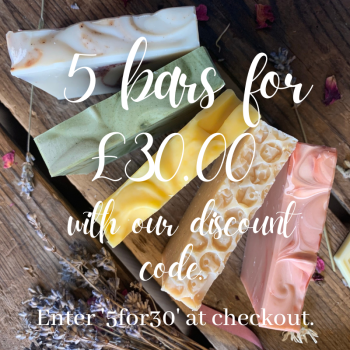 All our soaps are made by hand using the traditional 'Cold Process' method. Our recipies and formulas are proudly palm oil free, and made with entirely natural ingredients, no artificial fragrances, preservatives or silicones. They contain our own homegrown flower petals, botanical infusions and some have our own raw honey in there too. All our products are either suitable for vegetarians or vegans. If you have any queries, please get in touch, we'd love to hear from you.
What our customers are saying -
"Just received the soaps--- really thrilled.Beautifully presented and such a fab smell.Thank you also for freebees.The soap really is too good to use. "
Products In This Category:
Showing 1 - 20 of 31 results
Beautiful handmade soaps using the traditional 'Cold Process' method to preserve all the beneficial qualities of the beautiful plant oils, butters, clays, essential oils and botanical ingredients used, so they can be delivered directly to your skin to nourish and pamper it.
Handmade in the heart of the North East with love, in quality controlled, small batches using only the best ingredients sourced locally where possible.
Product shots kindly taken by the very talented Phil from Scapeography, check out his stunning work here...
http://www.scapeography.co.uk/