Haircare - Oakwood Soaperie Shop
livepages::jquery();?>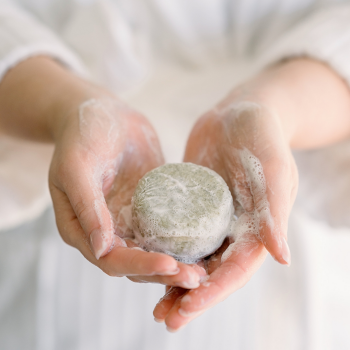 Looking for a natural haircare solution that's effective, and planet friendly...we've got you covered.
We're proud stockists of @Wild Ona handmade, natural solid shampoo bars and beautiful conditioner bars suited to all hair types, trully effective and simple to use with fully compostable, plastic free packaging. Handmade by another small UK based indie business too.
Wild Ona's handmade Shampoo and conditioner bars are : -
- Naturally Derived (made with naturally derived, plant based ingredients)
- Vegan & Cruelty Free
- Palm-oil Free
- Do not contain: Sulfates, parabens, silicones, synthetic colours or synthetic fragrance.
- 100% plastic free, recyclable packaging
Products In This Category:
Showing 1 - 4 of 4 results
FREQUENTLY ASKED QUESTIONS

Q: Are your shampoo bars suitable for coloured hair?
A: Yes! Our formulas do not contain sulfates (the ones to blame for stripping off colour) therefore suitable for coloured hair.

Q: I'm not sure which bar to choose, because my scalp is sensitive, but my hair is oily.
A: For sensitive scalp we always advise to go for the PURE bar. Oftentimes people with itchy scalp end up touching it too often which causes hair to get oily quickly.
I always ask a person if they have oily skin as well. If person has oily skin then their scalp is naturally more oily too, in that case they would benefit from BALANCE bar for oily hair.

Q: I live in hard water; would your shampoo bar be suitable for hard water areas?
A: Wild Ona bars are pH balanced shampoo, not soap, therefore they are suitable for hard water areas.

Q: My hair is oily, but I find shampoo bars for oily hair to be too drying. A: BALANCE bar has been formulated to help gently cleanse the scalp, help balance sebum production and at the same time nourish dry ends, it will not be drying!
Q: How long does your shampoo bar last?
A: It is 90g and depending on usage lasts around 60 washes, or 3 months' worth of washing, which replaces up to 3 BOTTLES of liquid shampoo!

Q: Do your bars contain Palm oil?
A: All our ingredients are certified palm oil free.

Q: Can I use your shampoo bar for my children?
A: Until up to puberty children's hair produce very little sebum (around 6 times less than adults) therefore, they need only very gentle cleansing. If used for children, we advise not to rub the bar onto child's scalp, but rather create lather (foam) in your hands and use it to wash hair and scalp. Our bars are not intended for children below the age of 3.

If you have any questions, please do not hesitate to contact us.